Micro needling is a method of dealing with various skin problems by giving small punctures through a needle.
This process triggers body s own response of healing by stimulating collagen producing cells , cells that promote the healing of scars and by redistribution of the pigment cells.

This results in improvement of scars , hypo/ hyper pigmentation , sun damage , stretch marks, skin rejuvenation, tightening and collagen induction .
An old fashioned way of micro needling is derma roller and derma stamp . Derma pen is a new and more effective method of micro needling which delivers 1300 micro channels per second through a 12 needle spring loaded cartridge .This means a pain free micro needling procedure at a fast speed and in a more uniform
fashion .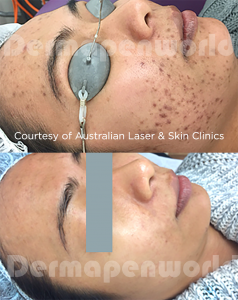 This treatment is established as a simple and very effective treatment and is gaining huge popularity.
The typical recovery time , depending on the type of treatment and the depth of needle used can be from 24 hrs to 4 days .